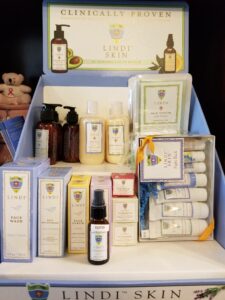 We are very excited to be carrying the full line of Lindi Skin skincare products. Lindi Skin products were created by Lindi Snider after her "experience watching friends go through cancer treatment. They expected the nausea, fatigue and hair loss associated with chemotherapy and radiation therapy, but they were not aware of the impact that these therapies would have on their skin. In discovering there was not one line of skin care products specifically developed for people with cancer, it occurred to [her] that someone had to create one." Collaboration with dermatologists, oncologists, nurses, patients and skincare formulators insured that they were creating products for even the most sensitive of skin. Our mission at Fittings with Michele is to provide a whole wellness approach to those going through cancer treatments and beyond which is why we love these products. All of the products contain botanical ingredients that originate from plants and have been approved by their Medical Advisory Board as both safe and effective.
We especially love the Fight Back Collection which includes some of their most popular items for soothing and treating ravaged skin. Cancer treatment takes so much away and Lindi Skin is there to give a little bit of pampering when it is most needed. The line contains body wash, face wash, body lotion, face lotion, lip balm, soothing balm, face serum, eye hydrator and skin coolers.
Give us a call to discuss what products are best for you or to gift to someone going through treatment. We can ship the products to you or to someone else.